Negotiation Simulation Training Online Game
Think of your past training courses. How much do you remember, and how much are you still using? If you're like most people, you'll have forgotten most of it. Yet it doesn't have to be this way. Years ago we were so frustrated with this challenge that we decided to do something about it. We set about creating a world-first negotiation simulation platform. Read our latest testimonials to see how much our clients love using our simulator to learn in the classroom and then again to reinforce skills online some months after graduating.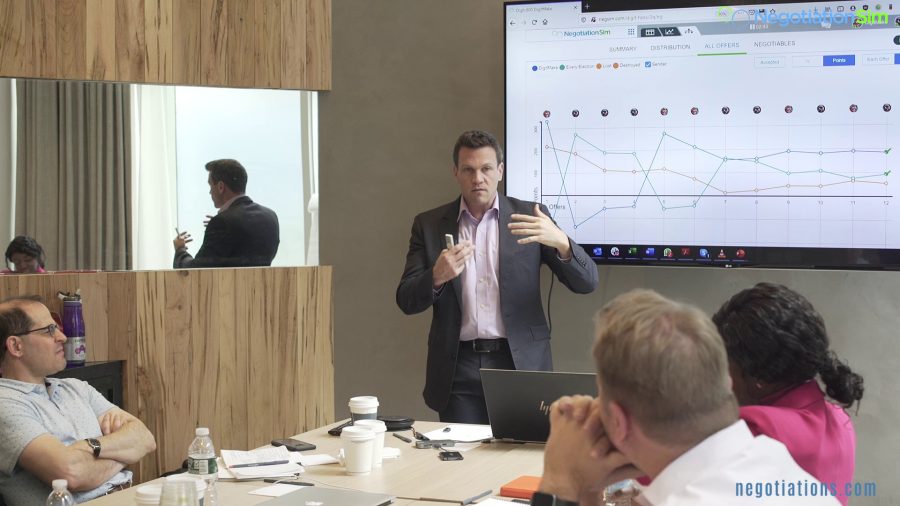 1:18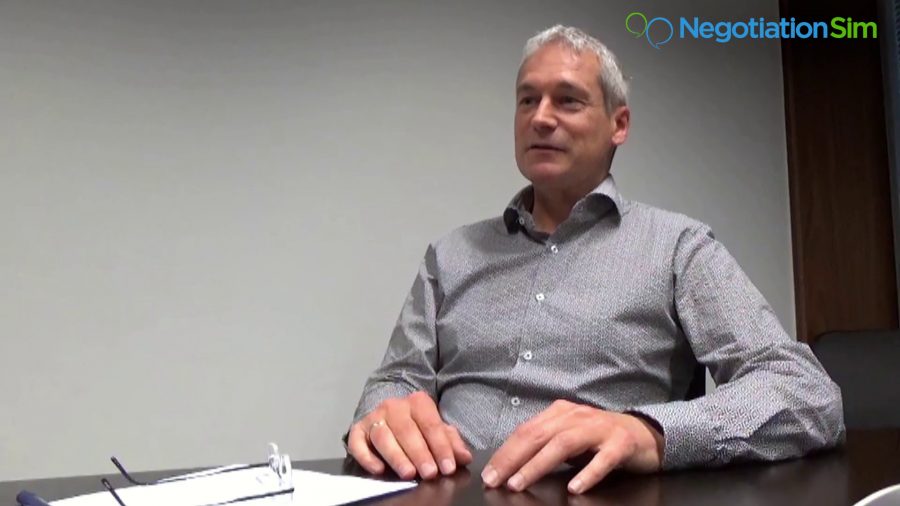 1:50
Our Negotiation Simulation Training Platform game was born out of frustration. We were frustrated with two age-old limitations suffered by ALL training seminars:
How can one facilitator keep their eyes and ears on everyone in the room, to share insightful in the moment feedback?
How can you ensure that your graduates continue using the tools and best practices long after graduation?
Our clients were happy with their teams' results from our courses. We, however, were not satisfied. We could see the dramatic differences between those clients who reinforced our courses through following our post-training advice, and those who didn't. We wanted all clients to enjoy budget and forecast-beating results in the longer term.
High ROI that Endures
Despite the best aspirations of learners and facilitators, within a few weeks to months after completing any training course, most of what was said and learned will be forgotten. Most graduates won't continue using their tools. The ROI of the training suffers. This is tragic. We've grappled with this problem for many years now. We made many incremental improvements, but only in recent years did we achieve a game-changing (pun intended) breakthrough.
We're now proud to share a far better way for our negotiation graduates. Our approach dramatically boosts business results, and with it training ROI in the months and years after the training. The best practices taught on our negotiation training seminars now have a dramatically longer lifespan.
Most of our clients are now choosing to protect their training investment by having their graduates participate in short highly practical commercial negotiation simulation games. While these facilitated sessions can be delivered in a classroom, most clients choose to save on travel and accommodation by facilitating online.
If you're curious about some of the other discoveries which are fueling our clients' continued high ROI, these include our wide-screen video feedback and our online Post Training Negotiation Assesment.
Empowering Insights
How can one pair of expert eyes and ears take in 6 to 14 pairs of negotiators? At first, the answer to this riddle may seem to be "You can't."
Insights are crucial for learners to better inform their deal-making capabilities. Insights inform better decisions and create those 'aha!' moments that catalyze behavior change.
We started on our mission by adding point scoring to our paper-based role-play exercises. We noticed improvements in participants' 'AHA!' moments. So we went looking for scored negotiation software. What we discovered was overly simplistic and rigid negotiation software – the negotiation software options haven't improved much. So in 2008, we decided to create a negotiation simulation game. Our goal was to allow our participants to negotiate naturally, while enabling far deeper insights, insights which lead to much more profitable decisions. We're proud to have far exceeded our original lofty goal.
Here's the rub in real-life business negotiations: most of the time our negotiated results are suboptimal. We're limited by our abilities to make the best-informed decisions. The person sitting on the other side of the table is highly unlikely to coach us. If your customer or vendor were to tell you how you could have done better, they would be lucky not to get fired, and would likely have to endure a tougher negotiation next time around. This is assuming your vendor or customer knows how you could have done better. We've proven that most negotiators who emerge from a compromise or lose-win deal holding the short end of the stick still think they did well. This isn't the fault of negotiators, this is just how the business world works.
After agreements are reached, we lift the veil and show negotiators the final scores, and also how value was created and exchanged, offer by offer.
Almost all our classroom and online training courses now feature our breakthrough simulator. The negotiation simulations can also be deployed as a brief half-day online intervention delivered remotely, such as on our negotiation simulation game training.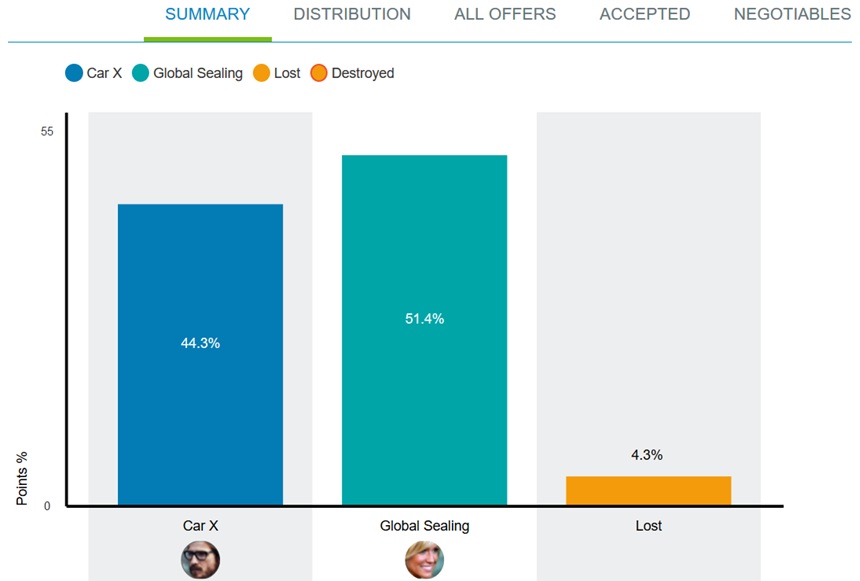 What to Expect?
What should you expect from our negotiation simulation role-playing platform?
Pinpoint each of your team member's strengths and weaknesses.
Learn with your colleagues as you navigate complex deals including preparing and coordinating team roles.
Refresh your memory on your negotiation training tools, or further hone your existing negotiation tools, strategies, processes or tactics.
Make better decisions on trade-offs, such as financial vs. non-financial goals.
Try out new approaches and skills in a risk-free environment that won't bleed your revenue or profits.
Be challenged, entertained, and highly engaged throughout.
Master understanding value from your customer or vendor's point of view, and how to package winning deals.
Pin-point those offers that earned you the most value, and which lost your value.
Test your mettle with colleagues, as you learn together and from each other.
Understand 'how' to achieve a win-win or a win-lose deal from evaluating the graphs and metrics at the end.
Master when to transition between negotiation styles such as competition and collaboration.
Take your negotiating skills to the next level with each highly realistic commercial simulation.
What do your participants need? A computer with a reliable internet connection. No installations required, our negotiation simulation simply works using the most popular browsers.