Negotiation Simulation Game
Online Negotiation Platform Training
Time required: under 2.5 to 4 hours
Rapidly improve your negotiation skills by using our fun virtual online negotiation simulation training game. Most learning happens when you're negotiating. So in this global first, you'll learn how to score maximum points in virtual negotiations with others. We typically share theory directly relevant to your decisions and results via online videos prior, or via slides with your virtual negotiation facilitator. Gain personal insights like never before from both sides of the deal when looking through your graphical reports. You'll pinpoint your best offers, as well as learn where you left gold on the negotiation table.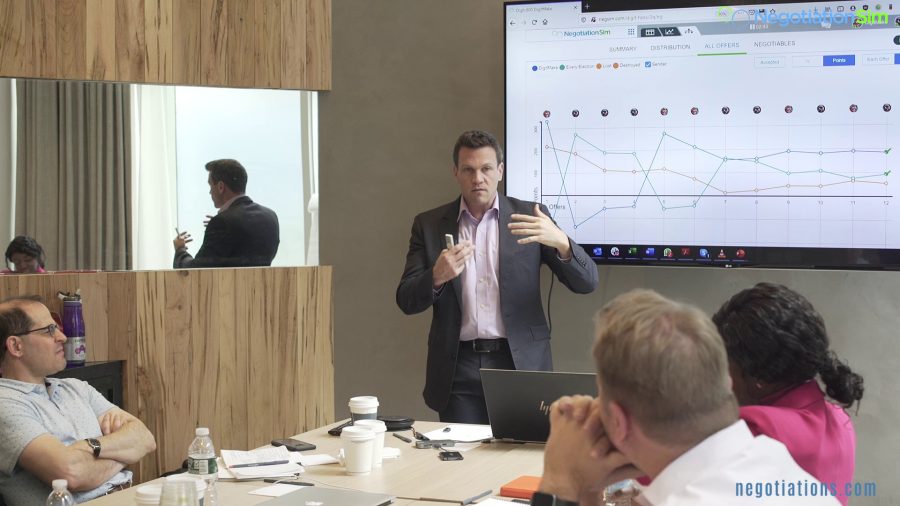 1:18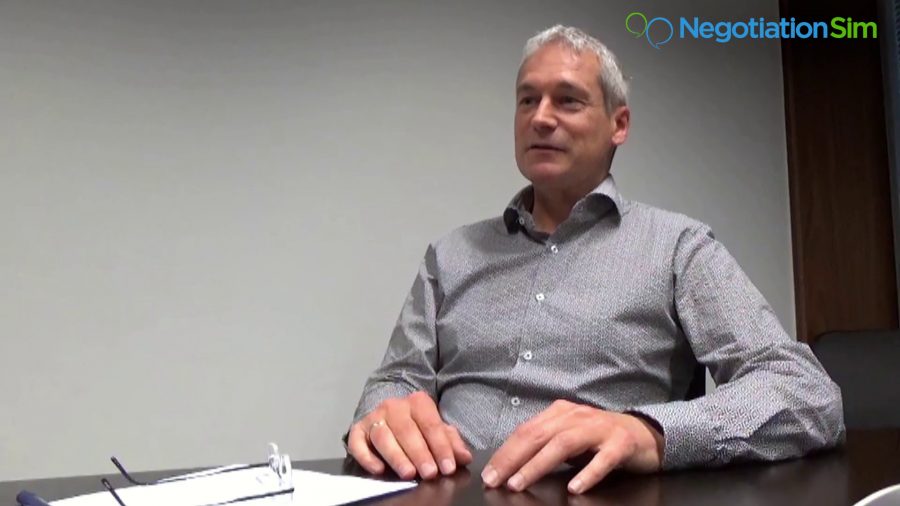 1:50
It doesn't matter whether you've trained with another negotiation provider or never taken a negotiation course, bring your 'A' negotiation game to see how well your score while learning highly practical negotiation skills via our remote role-play gaming platform. Plenty of real-life sales vs. professional buyer role plays.
Warning! Our online negotiation simulations are fun and addictive.
Training Course Overview
This is by far our most intensive training. The high impact true to life negotiation skills training is ideal for companies who want remote virtual delivery. Get paired up as a sourcing professional or sales professional and negotiate your way through negotiation simulation role-plays using our world-first negotiation gaming platform. We focus most of our time together negotiating, followed by reviewing your negotiation skills, with a minimum of video or powerpoint theory.
Key Seminar Outcomes
Learn how to maximise commercial value.
Understand the differences between win-win, win-lose and lose-lose.
Exchange vital information, including using insightful questions.
Evaluate trade-offs, including financial vs. non-financial goals.
Handle negotiation complexity, including trading using package offers.
Gain experience negotiating online role-plays via the phone, video conference or chat.
Employ various negotiation styles, such as competing and collaborating.
Identify your negotiation strengths and weaknesses, while gaining valuable practice in a risk-free learning environment.
Gain experience negotiating virtual online simulation exercises from different industries, with others of different styles and cultures.
Learn from your remote facilitator's expert feedback and coaching from everyone's graphs.
Seminar Agenda
Watch a pre-session video, then a brief group introduction on how to use the Negotiation Simulation Game platform.
Negotiators' prepare and negotiate a simple Negotiation Simulation Game.
Review your negotiation simulation's scored graphs.
Review graphs and lessons in your group with a Negotiation Expert.
Discuss lessons including a few relevant negotiation skills training slides.
If time permits, then repeat the above for a second complex Negotiation Simulation role-play game to improve your skills and scores.
Training Course Approach
After being paired up in a private online virtual room, typically roles are a buyer or seller, you'll read your confidential instructions and prepare.
You'll make and receive offers using our online Negotiation Simulation Game. You can discuss using voice or more relevant to your role you can use text chat to reach an agreement.
Once you reach an agreement, review your scored graphs together with your buyer or seller, offering each other useful feedback - something that very seldom happens in business.
Rejoin the rest of the group to review negotiation simulation game graphs to take lessons from your remote Negotiation Expert facilitator or your manager.
Did you achieve a win-win or a win-lose? Exactly where did you create value and where did you miss opportunities?
Some slides and lessons may be shared before you start or after your Negotiation Simulation role-play exercise.
Who's This Seminar For?
Whether or not you've already taken negotiation skills training course, our Negotiation Simulation Game role plays is your fastest route to gaining valuable insights and confidence while navigating your way through a true to life commercial negotiation. Role plays range from simple single negotiator to the more complex team negotiations.
Seminar Delivery Options
Delivery is typically conducted virtually online, no matter where you or your team are located. Either remote public access or tailored for in-house.

In your office with a Negotiation Expert facilitating, as a stand-alone or follow up negotiation training refresher.
   
Gain insights into your strengths and learning opportunities through this practical world first enjoyable learning platform. CALL US or choose your PUBLIC or IN-HOUSE TRAINING now.
Date & Time
This course is not available in Americas time zone. See our calendar for other courses.
See other dates
This course is not available in EMEA time zone. See our calendar for other courses.
See other dates
This course is not available in APAC time zone. See our calendar for other courses.
See other dates
Asia-Pacific
Asia-Pacific