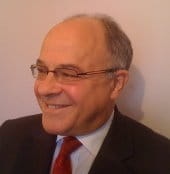 Paul Hazell
Paul is passionate about negotiation and has worked as a trainer and coach in this field for more than 20 years. As an independent consultant, Paul has worked with clients across many industries including retail, pharmaceuticals, telecommunications, travel, manufacturing, finance, insurance and the public sector to build their negotiation capability.
Paul holds a masters degree with distinction in Training and Development. Recognition for Paul's subsequent successful design of a training program resulted in a National Training Award. He is known for his energetic and highly interactive style and believes that to be useful and complete, learning must be active and practical, while being founded upon sound research and established principles. He plans and delivers training that maximises participants' learning and practice. Paul is an Associate of the Chartered Institute of Bankers, a Member of the Chartered Institute of Personnel and Development and a qualified MBTI practitioner.
When working with clients to identify their training needs and prepare for negotiations, Paul draws upon systems thinking, psychology and competence analysis combined with a practical understanding of the challenges and constraints that affect negotiators in the live business environment. This powerful combination enables negotiators to create and claim value in ways that they had not previously considered. By challenging the client's thinking in a supportive way, he helps them to widen their awareness and identify practical actions that they might otherwise not focus upon.
His own negotiation experience began during his career in international banking when he worked with corporate clients on multi-currency deals, financing international trade and later, trained corporate bankers to package and negotiate deals themselves. With a total of more than thirty years business experience across Europe, Asia, the Middle East, USA and Australia, Paul has valuable cross-cultural experience and a practical understanding of business that ensures that he quickly understands the issues facing his clients.